Women in Transition Workshop
The Women in Transition Workshop is about how to make your life work for you instead of feeling like work or family or everything else is running your life. It is an opportunity to spend quality time with like-minded women, getting clear on what is most important to you, and finding the best strategies to reach the level of success you desire.
Whether you find change exciting or frightening, Margery can help you look at what is in the way of your progress and how you can move through challenges to get where you want to go. If we're honest, being in transition is actually a given, and when we learn to embrace change and roll with it, we feel better about ourselves and those around us.
You will take away some great tools to use in any aspect of your life, and have fun doing it!
These workshops are being offered in different areas. Please contact Margery Miller at margery@peoplebiz.com if you'd like more information or if you'd like to register for an upcoming public workshop. In addition, your company can hire Margery to conduct a private workshop based on a particular area of expertise, or have her customize a private workshop based on your needs.
---
Articles
Margery Miller is a frequent speaker and writer. Some of her favorite selected articles are available in Adobe PDF format below:
Margery is also a contributing author to THE NEW BOTTOM LINE: Bringing Heart and Soul to Business, a business anthology featuring well-known experts such as Tom Peters, Anita Roddick, and Margaret Wheatley and the author of SOUND BUSINESS BITES: A Common Sense Approach to Customer Service and Management.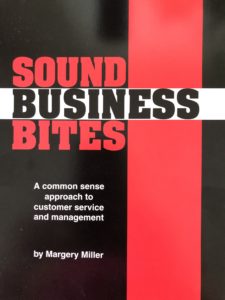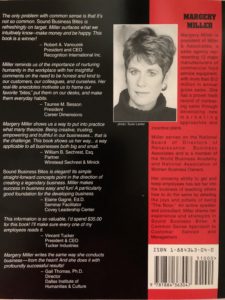 ---
Helpful Links
The Demartini Method is a methodology in personal transformation that is currently used in over 50 countries. Pioneered by Dr. John F. Demartini, founder of the Demartini Institute, the methodology aids in stress reduction, conflict resolution and heart opening. Margery is a certified by the Institute as a Teacher of Wisdom and is a Master Certified Facilitator of The Demartini Method.